At Smiles on the Boulevard, we have always been especially careful about maintaining a healthy, sanitary environment for our team and patients. As the national health climate continues to change and adjust to the risks posed by COVID-19, we are continually updating our sanitation standards to ensure everyone can enjoy a safe dental experience.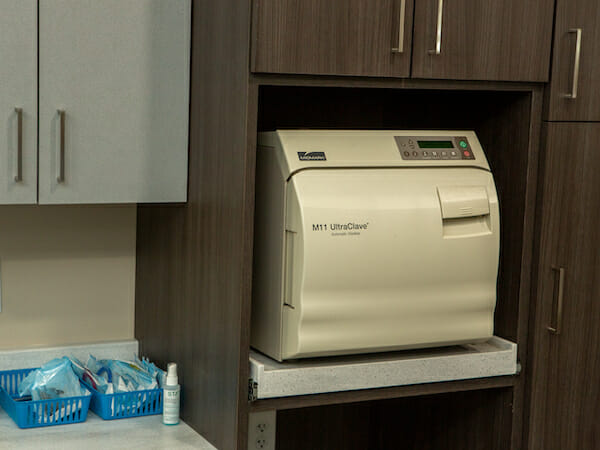 What Are You Doing to Keep Your Team and Patients Safe?
Even before COVID-19, our team has always made safety our top priority. We follow strict infection control protocols, which include stringent cleaning and safety precautions. We always wear masks, eye protection, face shields, and gloves. We also provide patients with personal protective equipment, such as eye protection, to wear during their appointment.
All of our patients are screened over the phone and upon their arrival for signs of illness. We also have contact-free thermometers that we use to screen team members and patients upon entry. Hand sanitizer is also available when you arrive at or leave our office. To maintain social distancing, we do our best to organize our schedule in a way that reduces the number of patients having to wait between appointments. We treat everyone as if they are at high risk!
How Do You Keep Your Office Clean?
We are very careful about keeping up to date with all Centers for Disease Control (CDC) and American Dental Association (ADA) sanitation requirements. We also work closely with local authorities to ensure we meet screening and reporting requirements.
In our office, we thoroughly disinfect rooms after each use. Throughout the day, we continually clean surfaces and objects that team members and patients may have come in contact with. We have also removed items, such as magazines, from our waiting room and appointment rooms to reduce the risk of transmission. Additionally, we have installed sneeze guards and new HEPA/UV filtration systems to improve circulation and air quality.
Do You Use Disposable Tools?
We use disposable tools and materials wherever possible. These items include disposable gloves, masks, floss, aprons, brushes, and a variety of other single-use objects. Using these types of tools helps us cut down on cleaning time while also reducing the risk of transmission.
How Do You Sanitize Reusable Equipment?
Although we use disposable materials whenever we can, some tools cannot be thrown away. For these, we take several steps to ensure each tool has been completely sanitized and stored in a clean environment between uses. To achieve the best results, we use a combination of heat and chemical disinfectants. We carefully train each team member to ensure they can efficiently handle, clean, and store tools according to CDC and ADA standards.
If you would like to learn more about the steps we are taking to keep our team and patients healthy and safe, please call our office at 740-423-8416.