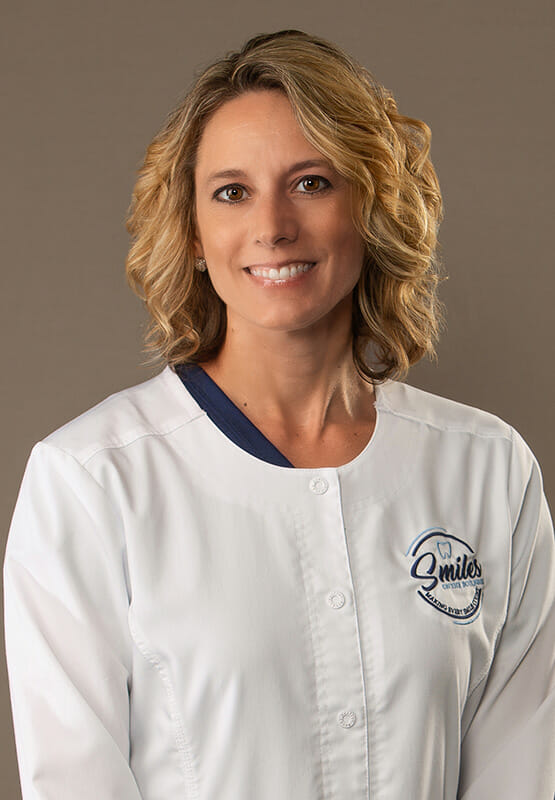 Deana
Registered Dental Hygienist
Deana is a registered dental hygienist at Smiles on the Boulevard. Her role includes providing dental hygiene services like dental prophylaxis, fluoride treatments, in-office teeth whitening procedures, dental sealants, and oral hygiene instruction. Deana's favorite part of her job is helping others. She loves her patients and looks forward to seeing them and catching up on what's going on in their lives.
"I want to help my patients have healthy smiles and positive dental experiences."
Deana earned her bachelor's degree in dental hygiene with a specialization in community health from The Ohio State University in 1997. Motivated by values including compassion, kindness, and eternal optimism, Deana has accrued over 23 years of experience in the dental field. Deana is also a member of the Sigma Phi Alpha National Dental Hygiene Honor Society.
"I love the family feeling of the practice. We all work as a team and get along well together. Dr. Hawkins' practice is committed to high-quality dental care."
In her free time, Deana enjoys running 5ks, 10ks and half marathons, coaching the Marietta Youth Running Club, working out, reading, shopping, watching Ohio State football games, watching gymnastics, attending the First Baptist Church of Williamstown, playing with her dogs, and spending time with her family. She has coached WWE star, Alexa Bliss, in gymnastics, met Mary Lou Retton, and can count to ten in Japanese due to her karate lessons from childhood.