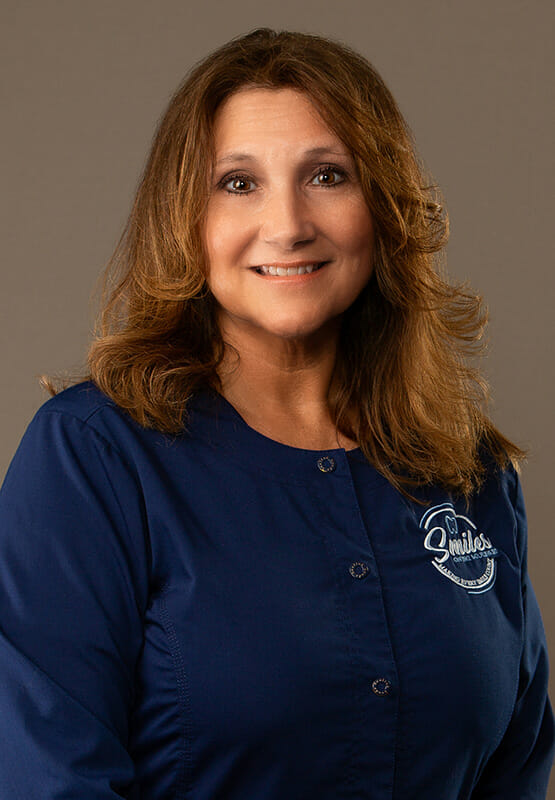 Dodie
Scheduling Coordinator
At Smiles on the Boulevard, Dodie works as a scheduling coordinator. Her role includes responsibilities like maintaining a full schedule for the dentist and hygienists, welcoming all patients with a friendly demeanor, collecting all insurance information, verifying patient demographics, and processing payments. Dodie's favorite part of her job is greeting the patients when they first arrive for their appointment.
"After talking with Dr. Hawkins personally and hearing the way she described her practice and relationship with her staff, I knew Smiles on the Boulevard would be a great place to work. I enjoy working with all my co-workers. Everyone is very caring and respectful to the patients as well as other staff."
Dodie takes great care in helping relieve patients' dental anxiety. She understands, on a personal level, what it's like to be terrified of the dentist and why that would cause someone to avoid going altogether.
"I love being able to assure the patients that Dr. Hawkins is a very caring and compassionate dentist who is gentle and wants them to be as comfortable as possible during any procedure."
Before joining the team at Smiles on the Boulevard with Dr. Hawkins, Dodie worked in the medical field for 10 years in scheduling/registration before becoming a medical transcriptionist for 17 years. She now has over 12 years of experience in the dental field and is motivated by values like dependability, loyalty, commitment, and honesty.
In her free time, Dodie enjoys baking, home decorating, reading, and being with her husband, children, and grandchildren.